FHFA Inspector General Brian M. Tomney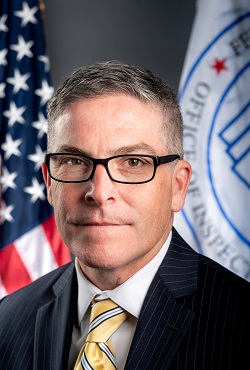 Brian M. Tomney was nominated by President Joe Biden and confirmed by the U.S. Senate to serve as Inspector General for the Federal Housing Finance Agency (FHFA). Sworn into office on March 14, 2022, Mr. Tomney is the third Senate confirmed Inspector General for FHFA.
As Inspector General, Mr. Tomney is the senior official responsible for independent audits, evaluations, investigations, and other oversight activities relating to FHFA's programs and operations. The Office of Inspector General provides leadership in promoting economy, efficiency, and effectiveness in FHFA programs and preventing and detecting fraud, waste, and abuse.
Prior to serving as Inspector General, Mr. Tomney served as the Head of the Office of Corporate Investigations at Capital One. In this role, Mr. Tomney led a team of researchers and investigators conducting independent investigations into allegations of internal fraud and unethical business practices. Mr. Tomney previously served as the Chief of Staff to the company's Chief Compliance and Chief Ethics Officer and the Senior Vice President for Operational Risk and Oversight. He also led the governance and independent testing functions in the Global Credit Card Compliance organization. Prior to joining Capital One, Mr. Tomney served in a variety of roles within the U.S. Department of Justice from 2006 to 2017, including: Associate Deputy Attorney General (2016-17); Senior Counsel to the Deputy Attorney General (2015); Counsel for Rule of Law (2009-14); and as a Trial Attorney in the Narcotic and Dangerous Drug Section of the Criminal Division (2006-09). A native of Massachusetts and long-time resident of Maine, Mr. Tomney's public service career began in 1990 as a career paramedic/firefighter serving the City of Portland, Maine, until 2003.
Mr. Tomney received his J.D., magna cum laude, from the University of Maine School of Law and his B.S., summa cum laude, from the University of New England. He is an active member of the Massachusetts and District of Columbia bars.